Tools for efficiency — portable computing devices and other products to fit the needs of the technical communicator, business person, author, artist and consultant.
Many professionals and colleagues that I compare notes with say that we are now living in the new world. What that means exactly is still something we are all figuring out. It seems as though many of the rules have changed, yet the oldest tried and true methods of communication and enterprise seem to be the ones we most rely on: word of mouth based on a reputation for honesty and excellent service, maintaining frequent contact among established partners and associates, continuously networking for new leads, a leadership style based on collaboration, and readiness to refer leads to colleagues.
I am grateful to be in a collaborative business with many talented and skilled professionals. Additional feedback and recommendations for our products and services at TM Information Services http://www.tminformationservices.com are always welcome.
- Mary M. McLaughlin
In this Issue:
• From the Front Page of TMIS News
• From Thunder Mountain the On-Line Store
• Discount Coupon - Thank You for Shopping!
---
From the Front Page of TMIS News <Top>
http://www.tminformationservices.com
Click on links below to read Full Stories
Businesses Are Optimistic About Profits; Stymied by Communications Problems: Survey Conducted by Acuity Incorporated Shows How Regional Companies Are Dealing with Economic Downturn
Portland, Oregon

Despite all of the communications technologies available and in use today, lack of communication across business groups is still a major problem for companies in the Northwest. Despite all of the millions of dollars and years of time invested in installing Enterprise Resource Planning, Customer Relationship Management, and supply chain optimization systems, companies aren't getting the expected benefits. And despite the continuing bleak economic forecast, manufacturing companies in this region are optimistic about both revenues and profits for this year and next.
Full Story
Government Figures Show Catastrophic Loss of Manufacturing Jobs Undermining Entire U.S. Economy
Pittsburgh, Pennsylvania

The release of rising unemployment numbers for April revealed that a 3-month erosion of U.S. manufactuing employment has reached catastrophic proportions and is now undermining the entire American economy, the United Steelworkers of America (USWA) said in May. Citing a release by the Bureau of Labor statistics (BLS), which revealed that a steep increase in manufacturing job losses pushed the overall unemployment rate to 7 percent in April, the union called for immediate, concrete measures to reduce the now skyrocketing trade deficit and create targeted incentives to increase investment in American manufacturing.
Full Story
Outsourcing, Importing Put Squeeze on Technology Jobs
Washington, DC

The United States lost 560,000 jobs in the high-tech industry in 2001-02, according to a 19 March report by the American Electronics Association . While IEEE-USA commends AeA for its Tech Employment Update, the unanswered question is where these jobs have gone. "In addition to the downturn in the U.S. economy, we're worried about the eagerness of American businesses to move high-tech jobs overseas," IEEE-USA President-Elect John Steadman said. "Congress should take a close look at overseas outsourcing to see what can be done to create and keep high-value, high-tech jobs here in the U.S."
Full Story
Global Gray Market Threatens Brand Integrity and Erodes Profits for Information Technology Manufacturers
Silicon Valley, California

The Anti-Gray Market Alliance (AGMA) announced in February the information technology industry is losing an estimated $5 billion in lost profits annually, according to the findings of a recent KPMG survey. The staggering results show billions of dollars in lost profits due to the sale of gray market products -- branded products diverted from authorized distribution channels or imported into another country without a manufacturer's consent.
Full Story
Professional Risk Managers Don't See Increased Risk from U.S. War with Iraq; Nearly 1 in 5 Say They Fear Their Business Continuity Plan is Ineffective
Chicago, Illinois

An overwhelming 84 percent of professional risk managers think risks to their organizations' operations have not increased at all or have increased only slightly since the start of the U.S. war with Iraq, according to a survey by Allianz Global Risks. Specifically, 64 percent say risks have increased "not at all" while 20 percent say risks have risen "a little." Another 11 percent of 145 respondents, who attended the annual Risk and Insurance Management Society Inc. conference in Chicago in April, say risks have grown moderately while just 5 percent say risks have grown significantly.
Full Story
Business Ethics Professors Debate Effectiveness of Their Profession, in Wake of Enron and Other Scandals
Santa Clara, California

Twenty-five years of business ethics teaching and research have had little impact on business practice, according to some top U.S. professors. Business ethicists meeting in Santa Clara University this month debated whether Enron and other business scandals demonstrate a failure of their profession. To the question, "Has business ethics teaching and research had any discernible impact on business practice in the U.S. and around the world?" R. Edward Freeman, Olsson Professor of Business Administration at University of Virginia's Darden Graduate School of Business Administration, answered, "No, or perhaps hell no." Freeman argued that "business ethics as a discipline has developed outside the mainstream conversation of business."
Full Story
DSL Forum Focuses on NExt Generation Application and DSL Standards
Libson, Portugal

The DSL Forum meetings in Lisbon had a focus on emerging technologies and shared news of commercial deployments of further standardized DSL services using ADSL2, ADSL2plus and SHDSL all coming on stream around the world in 2003. Additionally, the global DSL Forum learned that more than half of the world's broadband subscribers use DSL technology, as London-based industry analyst firm, Point Topic announced 56.5% of the world's broadband subscribers are connected through DSL, followed by cable modems (38%) and Gigabit Ethernet (4.7%).
Full Story
eBooks Are Flying Off the Library Shelves: Library Website Offers Self-Service Checkout and Return of eBooks for Readers on PCs and PDAs
Cleveland, Ohio

All day and night an automated service is sending out email notices to patrons that their library eBook is now available for check-out. With the click of a mouse, card holders of the CLEVNET online lending library at http://dlc/clevnet.org can download digital versions of Prey, Lovely Bones, Cliff's notes, or copies of hundreds of other popular fiction, travel, business, study guides or other titles from leading authors and publishers. The eBook titles are available in Adobe Acrobat and Palm Reader formats that allow patrons to read eBooks using their own PC, notebook, Tablet PC or PDA devices.
Full Story
15 Programs Named Finalists for American Government Award
Cambridge, Massachussetts

The Institute for Government Innovation at Harvard University's John F. Kennedy School of Government announced that 15 groundbreaking initiatives have made the shortlist for the sought-after Innovations in American Government Award. Each of the 15 finalists receives a $10,000 grant to support replication activities and is now eligible to win $100,000 in what is often referred to as "the Oscars" of government award programs.
Full Story
---
From Thunder Mountain the On-Line Store <Top>
http://www.thundermount.com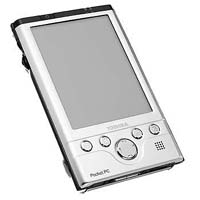 Toshiba e750 Pocket PC
Toshiba's newest addition to the Pocket PC family is equipped with Intel PXA255 400MHz processor; 64MB SDRAM; Microsoft PC 2003. Features integrated Wi-Fi (IEEE 802.11b) connectivity; SD and CF II expansion slots (Bluetooth Connectivity). Offers 3.8" 240x320 color display; USB and IR prots; touch panel input; 5-way navigation button; 4 application button; 4 application keys; built-in microphone and speaker and headphone jack. Powered by AC adapter or rechargeable Advanced Li-ion battery. Includes cradle, AC adapter, stylus and soft clip case, plus extensive software bundle. 4.9"Lx1"Wx0.4"H, weighs 5.1 oz.



Toshiba Portege 3500 Tablet & Notebook PC

It's a full-function notebook with handwritten "Tablet PC" capabilities, featuring the fastest Intel Pentium III processor at 1.3GHz and the new Microsoft Windows XP Tablet PC O/S.
Innovative 12" tablet screen design converts to Tablet mode to provide the same experience as an 8.5x11 notepad. Users can use the digital pen to create handwritten notes, drawings or annotate documents directly on screen. Users can save them in their own handwriting or convert them to typed text. They can even change the screen orientation from portrait to landscape mode.
Equipped with 40GB HDD; 256MB SDRAM; 10/100 Ethernet and V.92 modem; integrated WiFi 802.11B; SD, CD Type II and PC Card slots (Bluetooth connectivity).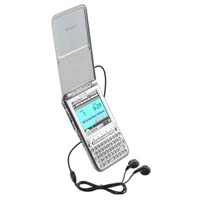 Sony Clie PEG-TG50 16MB Color with Integrated Bluetooth
Powered by 200MHz CPU and Palm OS 5.0. Features 320x320 color display with backlight; Memory Stick expansion slot; built-in voice recorder and MP3 audio player; integrated QWERTY keyboard with backlight. Picture/Movie Viewer; AV remote control function and polyphonic audio alert features; Picsel Technology's Viewer application; Li-Ion Polymer rechargeable battery. Includes integrated hard flip cover, USB and IR ports, USB cradle, stylus, AC adapter and cable, hand strap and extensive software bundle.
5"Hx2 7/8"Wx1/2"D, 6.2 oz.
Acer TravelMate 803LCI Centrino Mobile Notebook Computer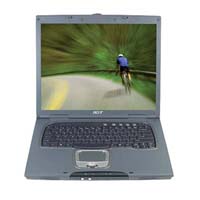 Powered by the NEW Intel Centrino Mobile Technology!
5 Hrs. Battery Life (8 hrs. with 2nd battery in media bay, built-in quick charges)
Intel PRO Wireless 802.11b Connectivity
Bluetooth Enabled
ATI M9 64MB VGA DDR
56K V.90 Modem
DVD-CDRW combo drive
10/100 Fast Ethernet
Hot Swappable Media Bay Design
Built-in Smart Card Reader
Windows XP Pro O/S
Aluminum Alloy Casing
Disk-Anti-Shock Protection
Dual Li-Ion Battery Option
4-in-1 (MS/SD/SM/MMC) PCMCIA Multimedia Reader (Optional)
Port Replicator Option
3 year Warranty
---
Store Coupon <Top>
Coupon - Thunder Mountain On-Line Store - Coupon

Free ground shipping on your order of $300 or more!

Just enter Coupon Code [expired] on your store order form at check out.

Thank you for shopping at Thunder Mountain!
---
Ask us about government and education discounts on computers and software.
If you can be efficient, you can be effective!


TM Information Services P.O. Box 1516; Orting, WA 98360
email: info@tminformationservices.com
TMIS Web site: http://www.tminformationservices.com
Thunder Mountain site: http://www.thundermount.com


Copyright 2003 © TM Information Services All Rights Reserved